The Guides Style
The sound of Guides for the Future is difficult to put into words. Traditional genres fall short of categorizing the band, whose members draw influences from hard rock, punk, progressive, grunge, psychedelic, jazz, jam, and even hip-hop to name a few. Hard at times, soft at times, but always with a message to send.

On guitar and vocals is Robb Spensley, whose patented riffing and catchy yet complex song compositions prove that hard rock can also be made danceable.

Cale Williamson provides the backbone ofthe group with his thundering drums and impeccable time-keeping and harmonies. Finally, Tommy Bobcat brings out the low-end with an aggressive onslaught of rhythm on bass and intricate song writing style.
Robb Spensley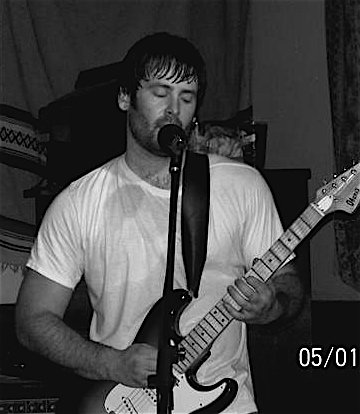 was born in Middlebury, Vermont in 1981. He played trumpet in High School and his father Steve also taught him how to play guitar. Raised in Pittsford, Vermont, Robb attended college at Clark University in Worcester, MA and then lived in Boston for three years before returning to Vermont. Robb is currently living in the Rutland area.

Robb's first ever band was a high school garage punk band called Sarcasm. In college Robb played guitar and sang in Name For Tomorrow which was an up-tempo and technical alternative dance punk type band. Following college Robb played singer songwriter acoustic music in and around Boston and also embarked upon a rap project which became known as Darth Robb. Robb is a talented guitar player and vocalist, plays many instruments, and enjoys creating beats and songs via electronic means. Following his move to Montpelier, Vermont, Robb and Tom met and started Entendre, which with the addition of Cale, quickly became the current project Guides for the Future.
Cale Williamson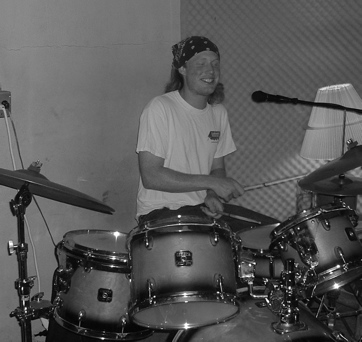 was born on Nov. 27th 1985. Born and raised in the small town of Cornwall, CT. Cale began playing drums at a very early age. Cale has played in countless bands and musical projects throughout his life, beginning with his first band that played at his 6th grade talent show. Cale would eventually move to Burlington, VT in 2005 after visiting the area and aboslutely falling in love with the music scene. (He also loves to hike and snowboard, so this place is perfect!) Cale is truely a fan of all music, and enjoys playing everything: rock, punk, jazz, jam, country, metal, etc, etc. You name it and he will play it. While Cale draws his influence from a wide variety of different artists and styles, he would have to say the most influential drummers in his life have been his Dad, Levon Helm, and John Bonham (duh!). As far as bands go, his specific taste is constantly changing and evolving, but as far as all time favorites, he would have to mention Phish, Green Day, moe., Anti-Flag (when they were cool), NoFX, Medeski, Martin and Wood, Led Zeppelin, Pink Floyd, The Band, Bob Dylan, and of course Cale's favorite band of all time - The Grateful Dead. See you at the show!
Tommy Bobcat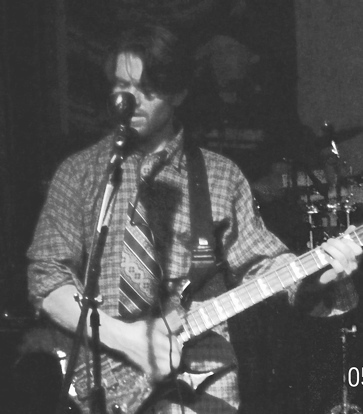 grew up in Anchorage, Alaska and began playing guitar in 7th grade. His first band, Velocity 53, gave him a taste of the lead guitar and initiated his love affair with live music.

Tom continued to play sporadically through college, and switched to bass during law school. That band, The Learned Hands played regularly during their three years together and released a record. Following law school, Tom ventured north to Vermont after being captured by the scene during an random visit.

Tom's style on the bass has developed significantly over the years. Following the lead of such greats as Les Claypool and Flea, Tom fuses slap-bass technique and more driven punk walks into his licks. His greatest inspiration for the instrument comes not only from the hard-rock genres, but from the progressive and jazz scenes as well, crediting King Crimson and Miles Davis among his list of favorites.

As a songwriter, Tom draws from classic cult oddities like Frank Zappa and David Bowie, as well as more modern artists such as Ween and Queens of the Stone Age.